OH SNAP, SON IT'S BATMAN'S BIRTHDAY??? Damn straight it is. 
Also apparently I like Batman. Just a tiny bit though (read: a lot) I thought it'd might be nice to do a small little giveaway for the occasion.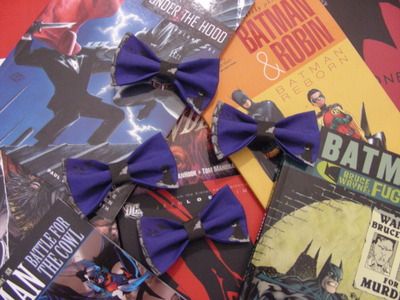 There will be FOUR winners, each getting ONE Batman bow
You can reblog/like for a chance to enter. No multiple reblogs for I will sad face at you also my shit is nowhere near exciting enough to clutter up people's dash.
I will announce the winner on my art tumblr (ladylawga) somewhere….around Monday night PST. Then I will contact the winners via ask but if you don't reply within 24 hours I'll have to pick a new winner YEAAAAH
I am a bro so I will ship internationally B)
Also since apparently I never participate in giveaways myself cause…lol..effort. I've also reduced down my Batman bows on my etsy to $3 (GASP!!!) for the next…48 hours? (yeah that sounds legit right…) so if you wanna grab one on there you are more than welcomed to B) Good luck good luck. And happy birthday once again, you grumpy lovable Bat.
laupoisan reblogged this from ladylawga and added:

I have to have one *_*